My Dream Of Pakistan Essay In Urdu
A couple of months ago I witnessed an elderly man, approximately 70 years old, being violently shoved off the side of the road by a policeman who was clearing the way for a 10-car protocol of a federal minister.
Incidents like these are not rare and it seems as though we have grown accustomed to them. But that doesn't mean we don't think they are wrong.
You often hear people arguing about 'which hidden arm' is behind specific problems in our country; whether it's the politicians, RAW, or the army – it's an endless debate. But in truth, the average Pakistani just wants to feed his hungry children, survive and live a decent life.
Back in 2006, I made a video about Pakistan. It was an amateur production but it left me wanting to remake it from a better perspective. Recently, a group of Pakistani students studying in England approached me to make a short film that was relevant to March 23 for an event that they were organising.
The country's descent into darkness and hopelessness were my drive to make this video; I wanted to try and incite a yearning amongst people not to lose hope.  The idea was to make a video that reached out to people who are sick and tired of the constant struggle and help them dream of a better tomorrow.
I explained this concept to my uber-talented friend Ali Mudar and he penned the script. Another friend, Hammad Hanfi, was kind enough to be boom operator for the first two days of shooting; on the third day, my cook, Qadeer, took responsibility for this coveted job.
The video has many different people in it. I tried to portray a cross-section of society. A few people were complete strangers, including a dhaaba owner and a couple of people who visit the dhaaba on a daily basis. Others in the video are people I have worked with in short films and plays before. One lady runs a preschool; another is a classical dancer and political activist.
I tried to keep it as diverse as possible, so it really sucks when people comment saying I've just put a bunch of rich kids in front of the camera!
I want this video going viral in the hope that every Pakistani can be inspired to do anything to make the dream of a happy, prosperous Pakistan a reality.
Follow Usman on Twitter@baraboda11.
on Twitter, become a fan on Facebook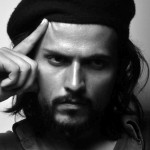 Usman Mukhtar
The author has a Bachelor's degree in Journalism from Punjab University. He started to compile tribute videos and after years of experimenting with the camera, he taught himself how to edit, shoot and direct videos. He tweets @baraboda11.
The views expressed by the writer and the reader comments do not necessarily reflect the views and policies of The Express Tribune.
Our great leader and the founder of Pakistan, Mohammad Ali Jinnah had a dream, which came into reality in the form of a separate nation, a separate state called Pakistan. Independence of Pakistan is a story of continuous struggle against a host of obstacles and it was Quaid's guidance and leadership which provided us a bulwark of strength at those difficult times. It was due to his guidance that Muslims gained confidence and with 'one voice' demanded a separate homeland for them.
It was Quaid's dream that, this separate state, for which a lot of struggle has been done, should emerge as a sovereign democratic state. The state where the law would have the supreme authority, where politicians would work with dedication and would remain honest with the state, where every man and woman would work for the development of country. The Pakistan that he dreamed of was the one in which the rights of every citizen would be protected. Poverty would be eradicated in the minimum possible time. Illiteracy would be eradicated. Justice would be in the reach of everyone. Non-Muslims would be protected and respected.
Quaid-e-Azam gave us the principles of Unity, Faith and Discipline to make Pakistan great nation in the world. Quaid's motto, "work, work and work" is a call to wake us from slumber and work hard to achieve national goals. Quaid once said "I have no doubt that with unity, faith and discipline we will compare with any nation of the world. You must make up your minds now. We must sink individualism and petty jealousies and make up our minds to serve the people with honesty and faithfulness."
He wanted us to have faith and firm belief in Allah Almighty, he wanted his nation to be faithful with their work and ultimately with their state.
He was of the great view that the rights of minorities should be fully protected and this can only be done if there is unity in the state. Likewise, discipline has also great importance for the growth and development of a country. We should have followed these principles in order to have a better future for the country.
But sadly, even after more than 67 years of independence, the real dream and vision of Quaid-e-Azam could not be achieved. Most of the political leaders as well as the government, judicial and business representatives are involved in corruption. Corruption has ruined our image at the national as well as international level.
Pakistan is facing a bulk of problems including terrorism on the top of the list, poverty, inflation, lawlessness, increasing rate of illiteracy, bad governance, unemployment, lust for power in politicians, economic instability.
Pakistan is rich in natural resources but again because of corruption and mismanagement in public sectors, we are not able to use these resources properly. These problems are day-by-day worsening the economic situation of our country.
The current situation of Pakistan is totally opposite of what Quaid's vision was. We have lost the path chosen by the Quaid for the prosperity of Pakistan, today we do not trust each other. Attacks on minorities and their place of worship is a bitter but truthful fact. Today, we have no unity.
In order to solve these problems the elimination of illiteracy should be the prime focus of government. People should be educated on a mass-scale, especially the youth of this country because they are the future makers of this country. Quaid-e-Azam once addressed the youth "without education, it is complete darkness and with education it is light. Education is a matter of life and death to our nation."
The democratic system of Pakistan should be strengthened and made workable. There should be abridgment of the gap between rich and poor. National income should be distributed rationally among all sections of the society. Provision of food, housing and clothing should be given top priority. And the most important is the elimination of terrorism.
To make Pakistan strong we will have to become economically stable, industrially advanced, socially united and spiritually firm. We will have to achieve these four goals in order to make our Quaid's dream come true!
Comments
comments
Tags: 23rd March | Alama Iqbal | Independence Day | Pakistan | Quaid-e-Azam